Mobil Research and Development
Dallas, Texas

This central research center for the Western Hemisphere has two major components: a round office tower and a linear laboratory wing. Norman served as a design and production team member, and subsequently as Architect-in-the-Field.

Monumental artwork included a wind-driven atrium mobile by Susumu Shingu and suspended fabric sculpture by Richard Smith.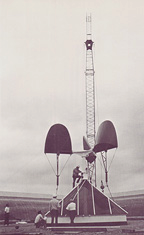 Credits

Design Architects and Planners:
Pei Cobb Freed & Partners
(formerly I. M. Pei & Partners)

Major Artists:
• Susumu Shingu
• Richard Smith

General Contractor:
J. A. Jones Construction

Photos courtesy of Pei Cobb Freed & Partners